I just flipped through some of my recent blog posts and realized that it's been about a whole lot of business and not much personal stuff. I'm not even sure if I mentioned anywhere on my blog recently that I'm pregnant and due for another baby girl on July 10th!!  That means I'm so close!! Less then a month away and all I can think about is how much that I hope she comes early. I'm so done being extra tired, extra fat, and extra hot! (Did I mention extra tired? How 'bout extra hormonal!!) Let it all be over so that we can start taking pictures of our second beautiful baby girl!!
We are pretty set on a name, but I'll wait for that until the actual announcement. (Yes, I am going to make you all wait!) Originally, we weren't going to tell anyone whether it was a boy or a girl, but, somehow that cat got out of the bag (*cough *daddy *cough) Everyone was just going to go insane without that one little tidbit of information so we let it spill.
I don't have any ultrasound pictures scanned, and once again, I didn't get any photo's of my prego progression. I'm a little bummed about that, (aside from the fact that I don't want any photo evidence of the fact that I've surpassed a weight that I'd rather not mention) I just never seem to think about it and when I do the camera is no where to be found. Just like I want to get some cute photo's of Maddie doing one of her favorite things, playing at the park, but I always seem to leave the camera at home. Maybe I should try tying a ribbon around my finger or something. Right now, I'd probably forget what I was trying to remember by tying an annoying piece of fabric on my hand. I'd leave it in my car, but with my luck someone would think it would make a nice addition to their stolen good collection! Oh well, maybe mommy brain will subside a little once baby is home and we all have a chance to breath again.
I've decided to start on a "First Year" book for Maddie. So far I have the first page done:
Just a simple little title page I guess. Nothing spectacular. And, the last couple days I've been thinking that I might switch out the first birthday photo in the center with the first day photo instead… But then, page two is going to be about birth, so that might be a little repetitive.
I think that's the only page that I've made for me that didn't have anything to do with a CT or a forum challenge. Goes to show how busy I am 'working'. Hopefully soon I can put that 'work' to good use and make some money. It's that or find a real job and who wants to do that when they can hopefully make the money doing something that they actually enjoy doing!
Man, that is one cute little girl up there! I just wish that she'd grow some darn HAIR!!
Just take a look at that cute little Mohawk she's got going on there. Really, she's got more hair then what it looks like, but it's so fine. Now that she's 19 months old (she was only about 10months in the photo above), her hair has really thickened up in the back and she's got some great curls, but that bunch on top just does not want to grow much. Pretty soon she'll be in pig tails and I'll be cutting gum out of her pretty long locks.
As you can see from this photo (sort of) It's really starting to thicken up a bit. Finally. This photo was taken in February. I can't seem to find any photo's of all her cute curls in the back…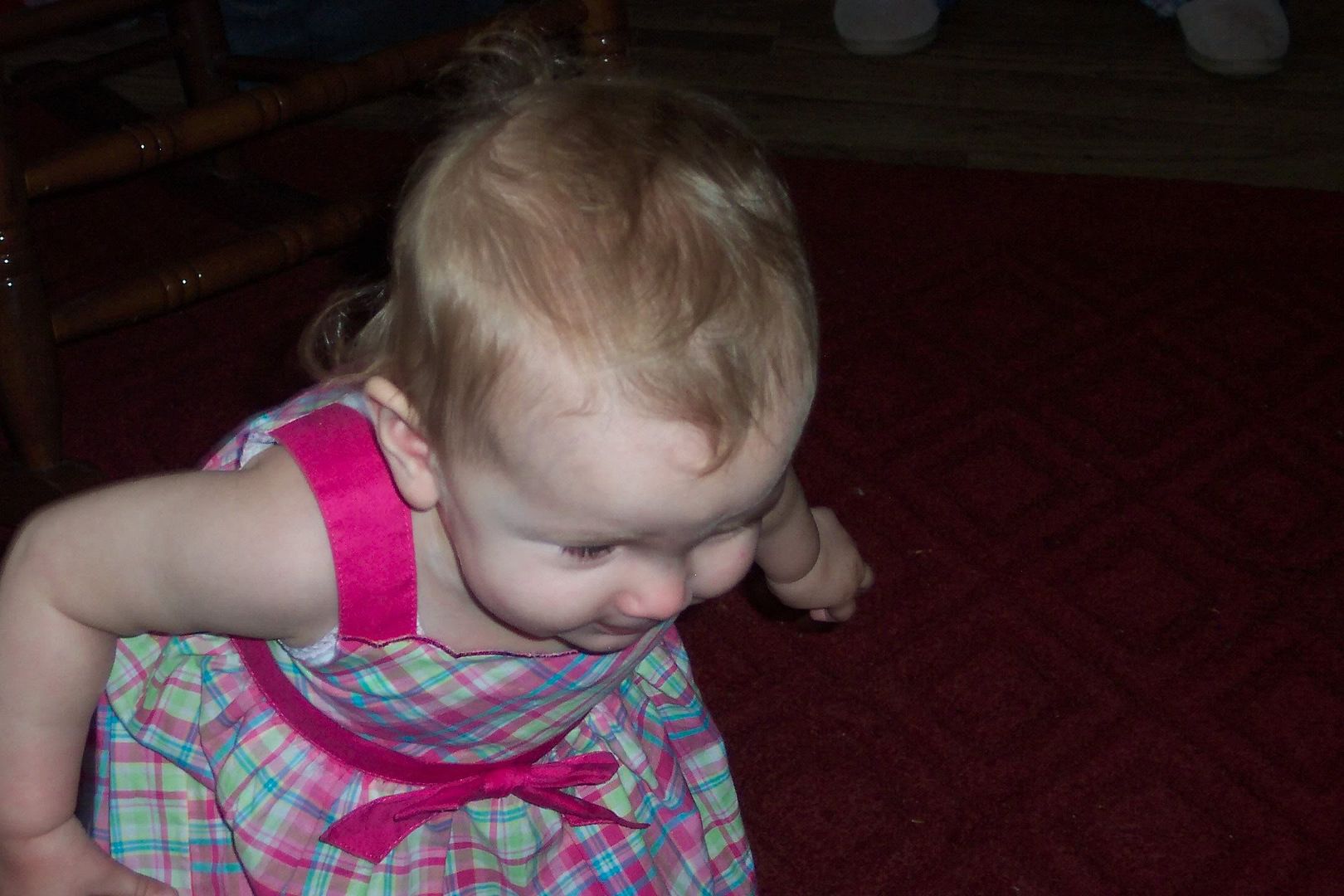 Here is one of the cutest photo's of her: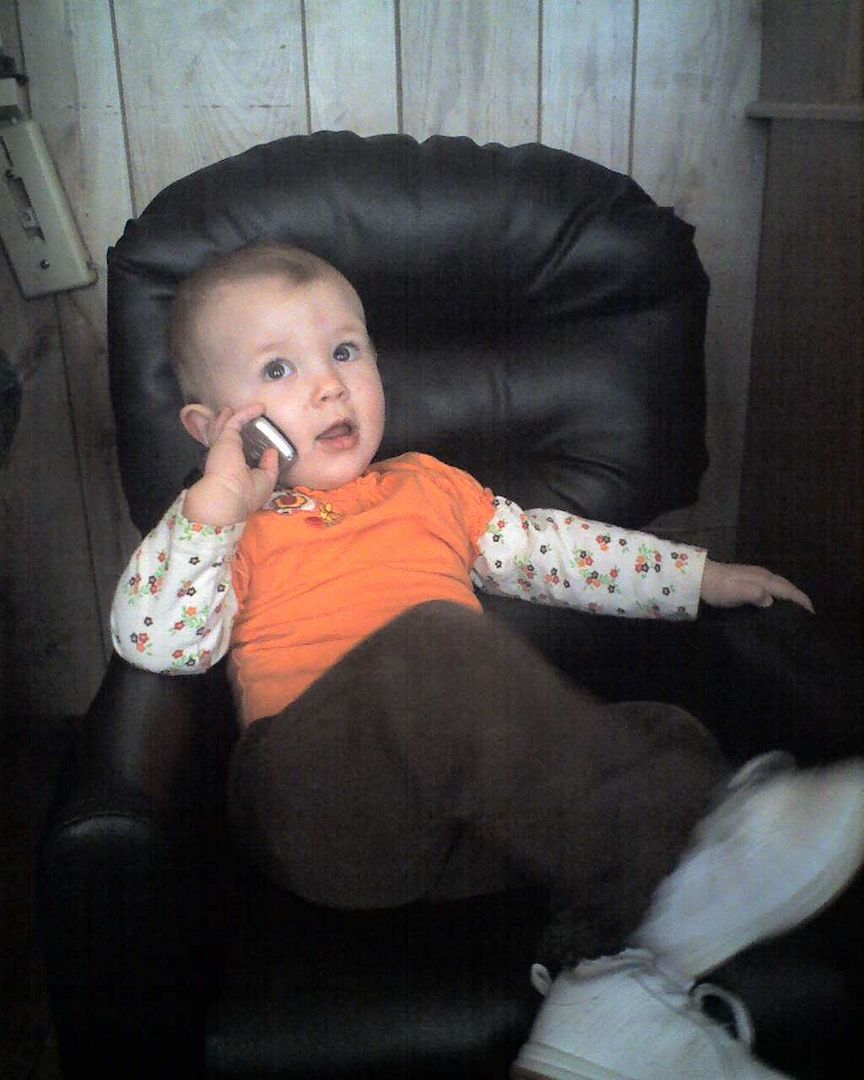 I wonder how telling of her in later years this photo is. It's probably what she'll look like when she's a teenager. Curled up in a chair with a phone attached to her ear. I really wish this was better quality, but you can't expect much from a cell phone.
Well ladies. I don't think I have anything else to tell you about. I just thought it was time to put a little personal stuff on here for a change so that it wasn't all work and no play.
I hope you all have a great weekend!